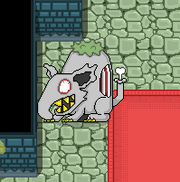 The Goul Rat is the first of the Boss Monsters to encounter in Blue Saga. It is rather difficult and players should be at least level 7 before attempting to defeat him. 
The Goul Rat is located in ??? of The Chompa Cript .
The Goul Rat drops Copper coins.